Welcome to The Listener Wikia
We are currently editing over 248 articles, and counting.
New pages | New files | Active users | Categories | Wiki tutorial | Help pages | Forums
"All my life I told myself: turn it off, shut it down, make it go away. Today I broke the rule, I stopped looking the other way and I saw the truth; this isn't a curse … it's a gift."
---
Toby Logan
is a 28-year-old paramedic who can read people's thoughts. Toby did not manage to know his parents and grew in foster homes. Until now Toby has kept his ability
secret and the only one he has shared it with is his old counselor and confidant, Dr. Ray. While he crosses the city of Toronto in his ambulance with his partner Oz, Toby tries to help persons in crisis and on the way treat his own wounds. With the help of Detective Marks and his ex-girlfriend Olivia, an E.R doctor, Toby realizes that his gift can serve to help other people.

<choose> <option>
Charlie Marks was a metro cop who worked with Brian Becker and Toby Logan. She first met Toby on the scene of a car crash and noticed this paramedic going out of his way to help a woman. She eventually kept bumping into Toby on her cases and realized there was more going on than meets the eye. So Charlie began teaming up with Toby on her cases. She and Becker had a romantic, co-worker relationship.
Read more... </option> <option>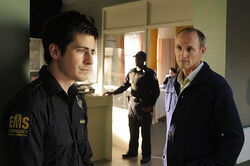 Ray Mercer is a friend and doctor to Toby Logan. He teaches at a university. He had known Toby from a young age and about his abilities. Ray helped Toby over the years control his abilities so he wouldn't hear everyone's thoughts. Later on in life, Toby would come to Ray for advice on different matters, including things involving his abilities and history.
Read more... </option> <option>
Dr. Olivia Fawcett was a doctor working at St. Luke's Hospital and Toby's ex friend. Toby and Olivia used to date, but had broken up and later on became good friends. At first Toby tries to woo Olivia back, but Olivia would not have any of that. When Toby tells her the truth about him, they get close and she helps him dig into his past as well as help him with understanding his ability.
Read more... </option>
Affiliations